---
We're looking for more SLO County WeatherElement Stations
Limited time offer!
We here at WeatherElement.com and SLOweather.com are looking for a select group of people with weather stations in SLO County who would like to see their weather conditions on the Internet on a WeatherElement page like this for all to use and enjoy.
You supply the Davis Instruments weather station, serial interface, and Ethernet Internet connectionand we'll sell you a WeatherElement data hub at our cost ($250). The Data Hub is about the size of a paperback book, and runs on very little power.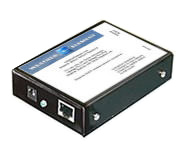 In return, you get a free weather site on WeatherElement.com (normally $15/month MSRP) and a spot on our station network maps. John Lindsey from PG&E also mentions WeatherElement stations and their conditions every weekday morning on the KVEC 920 AM Morning News with King Harris during thr SLOweather.com report, which is usually at at 8:05 AM.
Your weather station must be a Davis Vantage Pro 2 or Pro 2 Plus (wired or wireless), or Vantage Vue.
Pro 2 Plus stations will be given extra consideration as they include the solar and UV sensors. Sorry, but we don't support any other weather station brands.
Also, each station must have a Davis 6510SER serial WeatherLink interface (MSRP $165, available on the Internet for ~$120, not the USB or WeatherLink IP versions), or a WeatherElement DSI-01 serial interface ($30). This is the interface between the weather station console and the WeatherElement Data Hub. Once everything is connected and powered up, the Data Hub automatically starts sending your stations current weather data to the WeatherElement server for storage, analysis and display.
Then, you go to WeatherElement.com, register your unit and yourself as its owner, give us a little info about your staion, its location, and what you you want to call it, and your new WeatherElement web page is on-line!
If you don't already have a station or serial WeatherLink, we can point you to the best pricing on the Internet. If you don't have one and are purchasing one just because of this offer, please wait to order until you and your site has been selected. Depending on the station, features, and where you purchase, stations can cost from $257 for a Vantage Vue (special unadvertised pricing), to $800 or more for a wireless Vantage Pro 2 Plus which includes solar and UV sensors.
You also need a full time Internet connection with a spare Ethernet jack. The WeatherElement data hub has been tested on cable, DSL, fiber, satellite, and cellular connections. At this time, WeatherElement does not work on a dial-up connection. The Data Hub can be made to work with a WiFi router by using an external WiFi to Ethernet bridge which is an additional expense on your part.
Special offer station criteria
Station selection criteria for this special offer is as follows, in no particular order.

A well sited weather station (one that delivers accurate data, isn't shaded by trees or buildings, and the anemometer/wind vane is fairly out in the open).

A site fairly far away from other WeatherElement sites. What we're trying to avoid for right now are sites within a mile or two of each other.

You can see the existing stations at http://www.weatherelement.com/Network/SLOCounty

We're especially interested anywhere in the following areas, and the open spaces between them:

Northern San Luis County (Paso Robles, Heritage Ranch/ Lake Nacimiento, Atascadero, Templeton, San Miguel and environs)

North San Luis County coast (San Simeon, Piedras Blancas, Ragged Point, Cambria, etc)

Eastern San Luis County (Pozo, Carrisa Plains, Soda Lake, California Valley, Shandon, Creston, Cholame)

South San Luis County, (Shell Beach, Pismo Beach, Grover Beach, Oceano, Nipomo and the Mesa, etc.)

Cayucos/ Morro Bay/Harmony

Cuyama/New Cuyama, and even northern Santa Maria

As far as Los Osos/Baywood/ and SLO goes, east along the Irish Hills through south SLO (Prado Road) and the Islay Hill area in SLO are fairly well covered, as well as one station downtown. However we would be interested in stations in the other parts of the City, say in the Foothill, Johnson Ave, or Grand and Monterey areas.

If you know of anyone in any of these areas that might be interested, please point them here!

We're also especially interested in sites with interesting or extreme weather or locations (mountain tops, lakes, ocean frontage…)

It could also be a site of a different industry than we already have. We have a City fire station, condor research station, several homes, a private utility education center, a ranch, a municipal utility plant, a school, a historic site, a mountain top, and an orchard.

So, perhaps a winery/vineyard, other agriculture, golf course, kayaking/wind surfing or other sports venue, lake or marina, more government agencies, more schools, County Fire/CDF, LPNF Fire Station, or something else we haven't mentioned.

All we ask in return is that you keep your station on-line and in good repair, and perhaps give us feedback and suggestions on product setup, the web service, and a testimonial we could put on the WeatherElement web site.
The Bottom Line
So, if you are interested in becoming a SLOweather.com/WeatherElement.com affiliate station, please contact us at: slocounty@weatherelement.com and tell us about your weather station, why you'd like to have your own WeatherElement site, and what makes your location unique. Please ask us any questions you might have as well regarding Davis weather stations, or the WeatherElement hardware and web service.

We're also looking for a few satellite Internet users to test with (WildBlue, HughesNet, StarBand, etc.).

If you have satellite Internet, and are interested in helping, please contact us. We would like to test your uplink for compatibility at no cost to you whether or not you purchase any hardware.

And, if your site is not selected for this special project, don't despair,. We'll be opening sales up more in the near future.

Thanks!

Chris Arndt
---